IMTEC Mini-implants – Stabilization in just an hour
IMTEC Sendax MDI Mini Dental Implants is a revolutionary one-hour, one-stage solution for long-term denture stabilization. A mini-dental implant service restores function and confidence to our patients. The system is based on a patented procedure which operates with each kind of denture and does not require serious surgical procedures. A prosthetic denture is stabilized by a dental surgeon by means of 4-6 mini-implants, requiring only a local anesthesia. Right after the visit, the patient is assured great comfort while eating, smiling having a perfectly stable prosthetic!
Beautiful teeth - Lava 3M System
Digital technology in Lava 3M system ensures a natural and aesthetic smile.
15% discount on full ceramic crowns and bridges in Lava system.
Sanadent Centre of Aesthetic Stomatology in Wroclaw was established in October 2000 as an initiative of young doctors who share the care for the quality, the desire of constant development and the need to create such a dental practice where they could perform their profession in compliance with the highest standards along with their passion.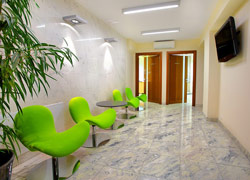 It is the experience gained at exceptional dental practices and continuous exploration of the expertise allowed us to open our own group practice.
The first years of practising meant achieving the goals. On the premises in Racławicka Street we were accomplishing our first professional dreams, we were investing in the modern dental equipment, and we were increasing the number of employment staff. Eventually the place limited our further expansion possibilities. In 2007 we acquired premises in Przyjaźni Street, office 66, and paying attention to its interior design and engaging all our resources and efforts we opened a new practice in the late spring in 2009.
Presently, three fully equipped cabinets, a spacious waiting room, together with a few administration rooms and dental laboratory comprise nearly 300 m2 practice.
The practice is air-conditioned, secured and under video surveillance.
Such conditions ensure the optimal area for performing an effective treatment, and a pleasant environment for the patients to be in.